Feliz Pascua Jesús!
Feliz Pascua Jesús!
Este es el libro de Pascua para niños que has estado esperando. La historia verdadera, contada con precisión de acuerdo con las Escrituras. Todo ha sido literalmente interpretado y escrito con buen gusto para que incluso un niño pequeño entienda y aprecie la muerte, el entierro y la resurrección de nuestro Señor Jesucristo. ¡Este es un duradero y duradero álbum de imágenes de tapa dura de 10 "x 8" que sus hijos valorarán durante años!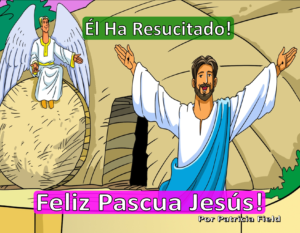 Click Here to purchase on Groupon!
Click Here to purchase on Ebay!
¡Solo mira las bellas ilustraciones en colores llamativos y vibrantes! Y mira lo fácil que es leer esto para tus primeros lectores. ¡Incluso los más pequeños disfrutan escuchando este relato histórico significativo de la Resurrección! ¡La Pascua debería significar mucho más que simples conejitos de chocolate y huevos!